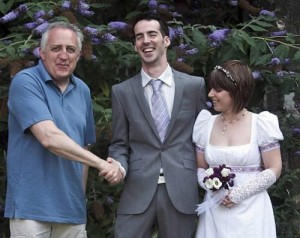 Is Bramwell Tovey related to Donald Francis Tovey (1875-1940), the famous British musicologist and composer?
As far as BT is aware, he is not related to DFT, though he is a great admirer of the writings of his famous namesake. This is a question BT is asked almost every week - ever since he first attended the Royal Academy of Music in London. Sybil Barlow, BT's piano professor, spent most of their first lesson together extolling the virtues of the Edinburgh University professor. BT once met a member DFT's family but no link could be found. BT's family lived for at least 200 years in the East End of London. The first recorded Tovey in UK history was a standard bearer for King Canute and must have got his feet wet when the king famously, but fatuously ordered the waves to recede...
What actually happened when Bramwell stood in for a pianist at a wedding in 2009?
BT was driving to St Andrew's Hall, Norwich in England for a concert with the National Youth Brass Band of Great Britain when he was called by Philip Biggs, administrator of the NYBBGB and asked if he could help out at a wedding in an adjacent hall, where a wedding pianist had failed to appear. BT agreed and drove straight to the hall - there wasn't time to change so BT looks rather bedraggled in the photographs online - a Bösendorfer grand piano was provided and the repertoire, chosen by the bride, included "Night and Day" by Cole Porter and various romantic tunes from the 1930s. No music was provided.
BT thought no more about it but three days later, in the middle of August when news is hard to come by, the media went crazy. BT did phone interviews with the BBC Radio 4 PM programme and CBC radio's As It Happens from his home in Vancouver, Canada and took a call from his mother who'd seen his picture in the Daily Telegraph and asked what on earth he was up to. A fortnight later, checking his Vancouver Symphony voicemail, he discovered he'd missed an enquiry from ABC's Good Morning America, such was the interest generated by the story...
What are the origins of the name 'Bramwell'?
BT is named after General Bramwell Booth, son of William Booth, founder of the Salvation Army. BT's family on both sides were members of the SA going back to the late 1800s. BT's maternal grandfather, Herbert Barker, was a Salvation Army officer who worked for Bramwell Booth in the 1920s. Herbert's son (BT's uncle,) was also named Bramwell. William Booth's evangelical work was inspired by the Methodist preacher, Charles Bramwell, hence his use of the name for his own son.
Who is Inspector Tovey?
An interesting question - in fact, he is BT in disguise, looking into all matters and mysteries musical for the benefit of younger listeners. Inspector Tovey gives BT the opportunity to introduce younger audiences to the joys and thrills of orchestral music. Inspector Tovey usually only appears in public with the Vancouver Symphony Orchestra. He was seen as recently as 2008 at the Beijing International Festival in China with the VSO and if you're lucky enough to live in British Columbia, rumour has it that Inspector Tovey could be coming to a hall near you quite soon.